Go back
to bed and chair raisers
Elephant Feet 14cm or 5.5in (carton of 4)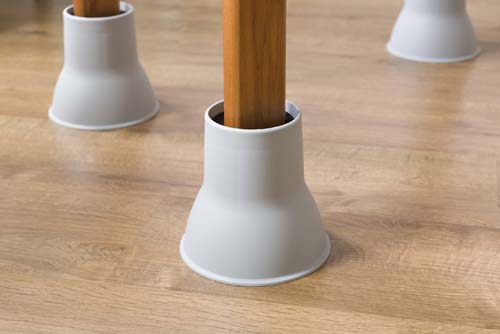 Where to buy
DISCLAIMER: Fife Health and Social Care Partnership does not have any affiliation or connection with these suppliers. ADL Smartcare and Fife Health and Social Care Partnership have no responsibility for the content once you leave this site.
Description
These are strong and durable raisers, suitable for large pieces of furniture. Simple one piece grey plastic design blends with any furniture. This has a extra wide top with a 90mm diameter and supports most types of furniture leg. With a central recess of 15mm this allows castors to locate within the raiser to ensure stability. Available in two heights. Maximum user weight (including weight of furniture) 380kg (60st)
Helpful advice
This product may effect other people
Products you buy are specifically for you and may not be suitable for other people in your home. For instance, a piece of equipment that you rely on, could be in someone else's way. If the other people in your home cannot use the same product as you, seek further advice. You may be able to obtain products that would suit you and your partner.
Help with fitting
Hints and Tips for fitting bed and chair raisers
We recommend that bed or chair raisers are fitted by an appropriate fitter. Bed and chair raisers fitted incorrectly can be dangerous. If you raise a sofa or chair, we suggest that you place them with the back against a wall as it may tip when used. Please always see the manufacturer's instructions for advice on fitting and maintaining the equipment. WARNING: Chairs and beds should only be raised using products designed for that particular purpose and item of furniture. If you raise the chair and you use a footrest, you may need to change the height of your footstools.